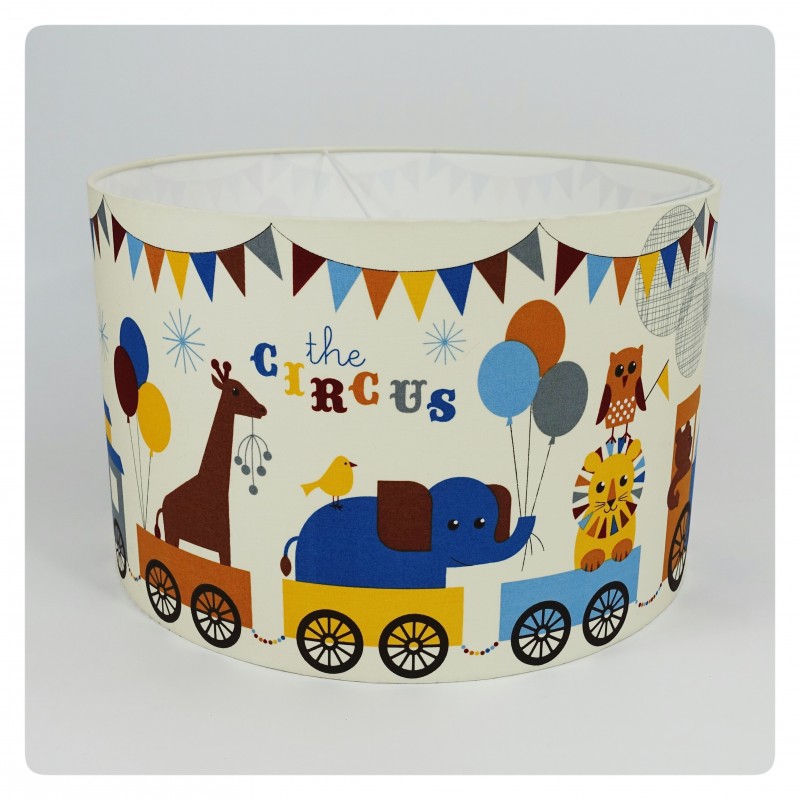  
Ceiling lampshade "The Circus"
"The Circus" is a children's ceiling lampshade or suspension representing a circus train driven by a smiling bear and dragging wagons. In wagons, we have a lion surmounted of an owl, a blue elephant holding balloons, a brown giraffe and a small canary looking away. This lampshade or suspension will be a beautiful decorative element in a child's room.
For more information on these light fixtures and the available dimensions, please see the "More info" and "Data sheet" sections below.
General description
This lighting for children is only available in lampshade and ceiling lampshade.
Drum shade and pendant lampshade - Product information

Mignonette

Not available

Fillette

Diameter: 30 cm x Height: 22,5 cm

Diameter: 11.81 '' x Height: 8.56 ''

Marie-Jeanne

Diameter: 35 cm x Height: 22,5 cm

Diameter: 13.78 '' x Height: 8.56 ''

Impériale
Not available
Cord set
Not furnished
Light bulb
Not furnished
Fitter

European fitter for E27 light bulb (inner diameter: 19/16" i.e. 4 cm)

A European fitter is similar to an Uno fitter, except the inner dimension of the ring measures 1 9/16" (4 cm). The European fitter generally resembles a large, flat washer, with the thickness of a penny. The European fitter slips on to the socket, and then a plastic or metal cap gets screwed on to hold the fitter in place.

If necessary, you can purchase an uno adapter to use our shades on your lamp base.
Light bulbs - Our recommandations
Be sure you have 2-3 inch separation from bulb to shade, especially for higher wattage bulbs.
Our floor and table lamps need E26 ou E27 light bulb according to the voltage of your country (120 or 240 V).
E26 stands for 26 mm and the E27 for 27 mm in diameter. Those two standards are interchangeable, meaning a E26 light bulb will fit a European E27 base (bulb socket), and E27 light bulb will fit in a E26 base (bulb socket). 
Our light fixtures in your country
Our floor and table lamps are compliant for all countries in the world (except Australia, Brazil and South of Africa). According to your country, we furnish you the right plug (2 pins Euro-plug, 2 pins US-plug or 3 pins UK-plug). Please click here for more information.
In the same, our shades can be used all over the world. If necessary, you can purchase an Uno Adapter to fasten our shades on your lamp bases.
Data sheet
Country of origin

Designed in France and made in France by Tante Ines

Material

Shade : Fabric / Frame : Steel, Epoxy powder coating

Shipping

Package is delivered to the carrier within three business days

Standards

Meets CE standards

Recommended usage

Kids lighting

Dominant color

Multicolored

Satisfaction or your money back

If you are not satisfied by the quality of your lighting, Tante Ines will refund
All our lights are made in France in our workshop in Mayenne.

The metal and electrical components of our luminaires come from French industry.

We manufacture and send your orders within a week by French post services.

You are not completely satisfied? We take back your order within 14 days.
You might also like